Description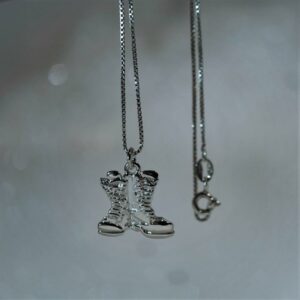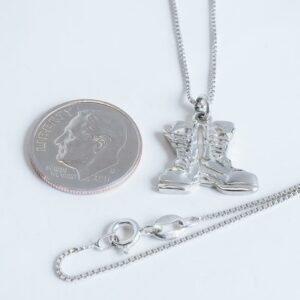 A soft rich elegance that is versatile for wear day or night. A classic piece for every jewelry wardrobe that will never go out of style. Resembling an open parachute, these petite Spit Shined boots suspend from a sterling silver box chain. Beautifully paired with the High Speed Spit-Shined earrings, this necklace provides a look that works well with office or evening attire and is stylish enough for any occasion.
SPECIFICATION
Pendant
Metal Type:  Sterling Silver; Silver Plated
Metal Finish:  Shined
Material:  0.925; Brass
Size:  15 mm
Chain
Length:  16"; 18"
Metal:  Sterling Silver
Chain:  Box Chain
Clasp:  Spring Ring
Weight:  3.2 grams
BEHIND THE NAME
Airborne! Sky Bloom is military jargon for a deployed parachute. In order to get that parachute to deploy, one has to jump.  In moving forward in life, sometimes we just have to 'JUMP'!  No worries, the wind will always catch you.